About Us
At Golf Lab Academy, we're committed to providing a state-of-the-art teaching and training facility to help golfers of all levels improve their skills. Our founders, Eric Woods and John Burckle, bring decades of experience in playing and teaching the game. Since 2001, Golf Lab Academy has been at the forefront of using cutting-edge technology to create a more effective and enjoyable learning experience for our students. Our spacious indoor studio is equipped with the latest technology and provides a comfortable and relaxed environment for one-on-one or group lessons.

Eric Woods, Founder
In 1987, Eric Woods graduated from University of California, Irvine and immediately started teaching indoor video golf lessons as a source of income as he pursued his passion to play golf for a living.
In 1992 he became the first American to win the South American Tour money title and went on to win the Canadian Tour money title back-to-back in 1993 and 1994. After his playing career was over, he established Golf Lab Academy in 2001 and has been training players of all levels for multiple decades.

John Burckle, Instructor
In 2018, the Golf Lab Academy welcomed an exceptional talent as its Director of Instruction – none other than John Burckle himself. With a playing career that boasts a stunning 80 professional wins and a remarkable 6-time Money Winner on the Golden State Tour, John's skills on the green are nothing short of impressive.
With 25 years of teaching experience to his credit, John possesses a deep understanding of the game's fundamentals, and his ability to apply them is nothing short of remarkable. His outstanding playing background serves as a testament to his remarkable skill and places him in a unique position to impart his knowledge to aspiring golfers.

Andrew Price, Instructor
Meet Andrew Price, an accomplished golf instructor at Golf Lab Academy. Andrew was the Team Captain for Penn State's Division I College Golf Team from 2002 to 2006. With over 16 years of teaching experience, Andrew has made a name for himself in the golf world.
From 2010 to 2022, Andrew served as the Head Golf Professional and Director of Instruction at The Huntington Club, where he helped countless golfers improve their game. Prior to that, Andrew was the Lead Instructor at the Nike Golf Learning Academy from 2008 to 2010. Andrew's extensive knowledge and experience in the sport make him a valuable asset to Golf Lab Academy.
History and Background
Technology has come a long way since 2000 when Golf Lab Academy founder Eric Woods began teaching indoor video lessons at his small golf studio in Costa Mesa, California. Back then, instructors would use VCR machines and rulers as straight edges and felt tip pens to draw lines on TV screens to explain the fundamentals.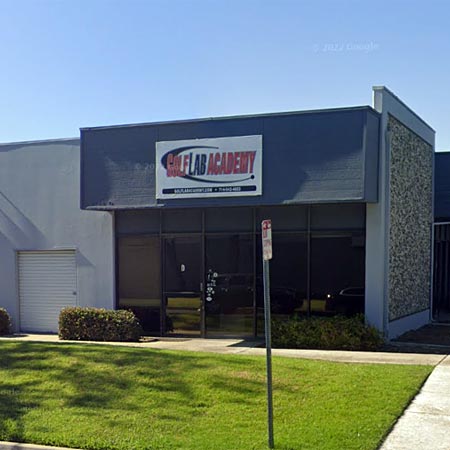 Golf Lab Academy is now located only minutes away from Roger Dunn Superstore in Santa Ana, CA. The studio has grown into one of the top teaching and training facilities in California. The instructors at this spacious indoor studio have more than sixty years of combined teaching experience and utilize cutting edge technology to create an experience that makes learning and improving quicker, easier, more effective, and enjoyable.
"The Golf Lab was built by playing and teaching professionals to create an environment that allows us to teach in a way that helps students see and understand how the fundamentals work and can affect the rhythm, motion, and trajectory of each swing," Woods explained. "The fundamentals are simple, but can be difficult to explain, especially without the use of slow-motion video. A golf swing only takes a second," he adds, "but there are a lot of moving parts, so not only can it be challenging to explain what students need to do to improve, it can be difficult to identify the issues."
Unassuming Yet Amazing Facility
From the street, Golf Lab Academy might look unassuming, but once inside, students are amazed to see a 1,500 square foot studio with a full screen hitting area and full bar with multiple flat screens. "When we moved out of the Roger Dunn store, I decided to build a teaching studio for my friends and me," Woods said, "one that had the capacity to train touring pros but with a fun and relaxing vibe. Not only is the studio extremely private for one-on-one teaching experiences, but it can also comfortably accommodate groups of up to 16 people."
A few months after the studio was completed, Woods' good friend and talented player John Burckle asked if he knew of any places looking for an instructor. "I kind of laughed and asked him to come over to my office to see what I just built," Wood said. "He came into the studio and has been Director of Instruction ever since."
John's stellar resume speaks for itself with 80 professional wins and more than 30 years teaching experience, and all his students would agree that he's an outstanding instructor who has the ability to teach touring professionals as well as teenage beginners.
As for Woods: he played professionally for ten years, winning back-to-back money titles on the Canadian Tour and was the first American to win the South American Tour money title. He also held touring cards in Australia, Asia, and South Africa.
The Bottom Line
The Golf Lab has all the cutting-edge technology and tools to help golfers of all ages and skill levels improve, but it's the instructors that make it truly special.